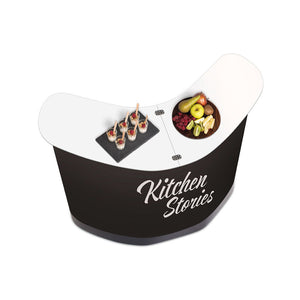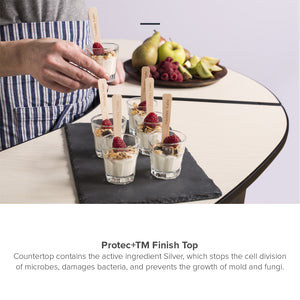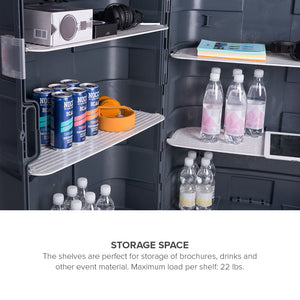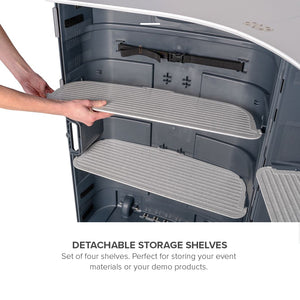 Expand PodiumCase Counter for Food Sampling
With its multi-functionality - both a counter and a shipping case - this is one of our most popular products. Pack, carry and store your backwall or entire booth in the case and convert it to a counter when you get to the event.
Details
Expand PodiumCase Food Sampling Top This top is made of a unique material called Protec+TM, that contains the active ingredient Silver, which stops the cell division of microbes, damages bacteria, and prevents the growth of mold and fungi. The top creates a more hygienic surface and provides secondary support to existing cleaning regimes. It also assists in the fight against contamination, making it perfect for Food Companies who need a clean and sanitary surface to serve food and beverage samples. The material also prevents odors and stains, reduces cross contamination and is recognized as the safest and most efficient microbial treatment.
Countertop 
A white hygienic food-safe top. Available in the US only.
Detachable shelves
Four shelves are available as an accessory. Perfect for storing your event materials or your demo products. Please Note! Add some weight at the bottom of the inside in windy conditions.
Use as a shipping case
Besides being a spacious counter, it's also a shipping case on wheels that fits the outdoor backwall (the back wall support parts and the water tanks are kept separately).
Includes:
PodiumCase with wheels
Printed Graphic Wrap
Shelves
White Hygienic Food-Safe Countertop
Production Time: 3-4 Business Days (after graphic proof approval)
Shipping: 1-4 Days Ground
Instructions
Artwork Templates
Specifications
Open box:
Height: 39"
Depth: 24"
Width: 48 7/16"
Closed box:
Height: 39"
Depth: 17 1/8"
Width: 25 9/16"

Weight:
Expand PodiumCase 22 lbs.
4 shelves: 7.4 lbs.
Large table top: 12.1 lbs.
Small table top: 6.1 lbs.
The Expand PodiumCase packed with a backwall weighs approx. 77 lbs.