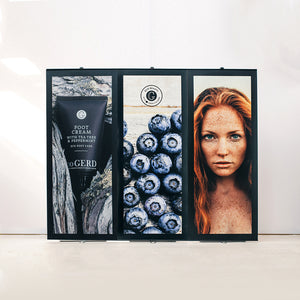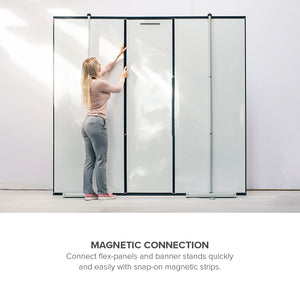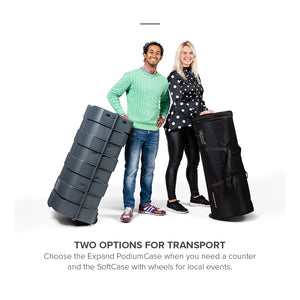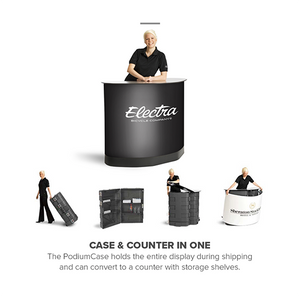 Expand LinkWall - 9ft Straight
The backwall consists of Expand LinkWall units (banner stand type of products) and flexible linking graphics in between, connected with a magnetic solution.The flexible linking graphic has a rubber profile, which enables you to change the shape of your wall. 
Details
Expand LinkWall - 9ft Straight Backwall: With this backwall you are able to adapt both size and shape from one occasion to another, depending on the floor space. It is especially suitable when you don't know what the location will look like beforehand. Or if you know that the floor space of your event locations will vary from one event to another.
Includes: 
(3) ELW Base Units with graphics
(6) ELW Magbars
(1) PC6-GRY (does not include podium conversion)

Add-ons:
200W or LED Spotlights
PodiumCase Open Counter Kit
Production Time: 3-4 Business Days (after graphic proof approval)
Shipping: 1-4 Days Ground
Instructions
Expand-LinkWall-Setup-Instructions.pdf
Expand-LinkWall-EPC-Packing-Instructions.pdf
Expand-LinkWall-Floor-Space.pdf
Expand-LinkWall-Monitor-Holder-Setup.pdf
Expand-LinkWall-Configurations.pdf
Artwork Templates
Expand-LinkWall-9ft-Straight.pdf
Specifications
Expand LinkWall unit:
Width: 35.4 in
Height: 86.6 in
Depth: 15.7 in (also available in 10.25 in (half foot) if used close to wall)
Graphic panel: 35.4 x 86.6 in
Flexible link panels: 23.6 x 86.6 in & 10.6 x 86.6 in
Weight:
Each unit: 4,2 kg
Graphic - 35.4 x 86.6 in - 4.4 lb
Flexible link - 23.6 x 86.6 in - 2.75 lb
Flexible link - 10.6 x 86.6 in - 1.65 lb
Pack in a bag:
Two Expand LinkWall units + one flexible linking graphic as well as spotlights. You can also fit an extra flexible linking graphic if you would like to pack a larger configuration in several bags.
Total weight incl. magnet bars : 44 lb
Pack in Expand PodiumCase:
Three Expand LinkWall units & two flexible linking graphics. You also fit three spotlights and for the counter, table top, inner shelves & graphic.
Total weight incl. magnet bars : 97 lb