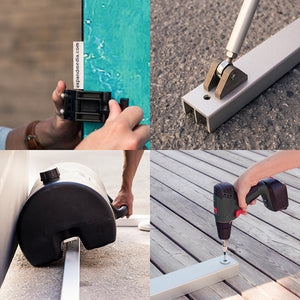 Expand GrandFabric Outdoor Wall
A portable backwall for branding and events outside, regardless of season or weather conditions. It is designed for long-term outdoor use and can be placed on different surfaces such as sand, snow, grass and asphalt as it comes with several support options.
Details
Expand GrandFabric Outdoor: Portable. Use on different surfaces. Carefully selected materials for long-term outdoor use.Double-sided fabric print. Easy set up - no tools needed.
Includes:
Aluminum Frame with outdoor feet and support legs
High Quality UV Graphic Print
Nylon Carry Bag
Add-ons:
Water Tanks
Ground Pegs
Indoor Feet
PodiumCase with Wheels
Production Time: 3-4 Business Days (after graphic proof approval)
Shipping: 1-4 Days Ground
Instructions
Expand GrandFabric Outdoors Set up Instructions.pdf
Artwork Templates
Expand-GrandFabric-Outdoor-115x94.zip
Expand-GrandFabric-Outdoor-91x94.zip
Specifications
Size: 91 11/4" x 94 1/2"
Depth: 63"
Frame weight: 23 lbs.
Feet & weight Bar: 44 lbs.
Size: 115 3/4" x 94 1/2"
Depth: 63"
Frame weight: 30 lbs.
Feet & Weight Bar: 47 lbs
Maximum wind speed
Can withstand a max windspeed of 20 mph (with two full water tanks when firmly attached to ground)