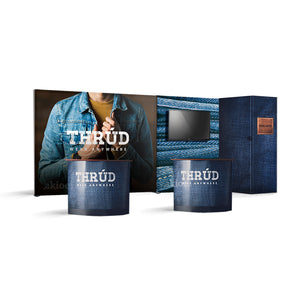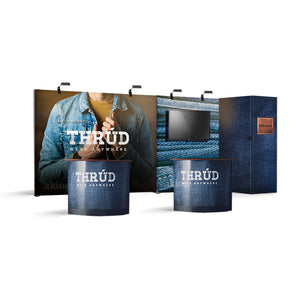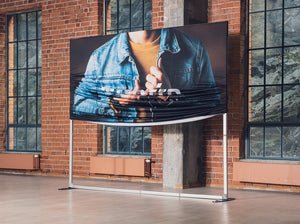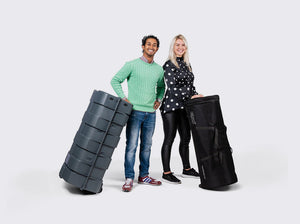 Expand GrandFabric 22.03
The Expand GrandFabric is a portable and modular display wall for events, trade shows, or other brand building activities. The price includes a high-quality graphic single-sided, aluminum frame with feet packed in a soft nylon bag roll bag. For details on how to customize this display, contact our Sales Team.
Details
Our most popular modular backwall display with high quality tension fabric print for the perfect image. Available in two shapes; straight and curved and in different widths and heights, and with possibility to add monitor and brochure holder, the Expand GrandFabric backwall allows you to be more creative and to think out-of-the-box when designing your display. This backwall is also part of our modular and portable display system, were you can connect one or more backwalls to create an elaborate booth. With all these possibilities it has become one of our most loved products. 
Kit Includes:
x2 Expand GrandFabric Walls w/ Double-sided Prints, x1 - Storage Closet with Door w/ Double-sided Prints, x1 - Monitor Holder Kit, x4 Hard Cases w/Counter Conversion

Add-on Accessories:
Transport Hard Case, Counter, Spotlights, Brochure Pockets, Side Shelves, Side Table, Center Monitor Bracket and Pole
Instructions
Expand GrandFabric Straight Frame Install
Expand GrandFabric Horizontal Support Pole Install
Expand GrandFabric Spotlight Install
Expand GrandFabric Integrated Monitor Install
Artwork Templates
Straight Expand GrandFabric 115" x94"
Straight ExpandGrandFabric 76.5"w x 94.5"h w/ Monitor Cutout
Straight ExpandGrandFabric 38.63"w x 94.5"h - x3
Door ExpandGrandFabric 32"w x 94.5"h 
Specifications
Backwall:
Width: 
Height: 94 1/2" 
Depth: 22 7/16" ( incl. feet)
PodiumCase:
Open Dimensions: 48 7/16" x 24" x 39"h
Closed Dimensions: 25 9/16" x 17 1/8" x 39"h
Weight: 
Expand PodiumCase 22 lbs.
4 shelves: 7.4 lbs.
Large table top: 12.1 lbs.
Small table top: 6.1 lbs.
PodiumCase packed with backwall: 77 lbs.
Spotlights (Optional 200W or LED):
200W
LED
Set up Time:
Less than an hour
Turn Around Time:
4-5 days plus shipping
Shipping:
Dimensions in PodiumCase: 25 9/16" x 17 1/8" x 39"h
Weight in PodiumCase: 77lbs
Complete Wall: 45 lbs.
Expand PodiumCase: 22 lbs.
Nylon bag on wheel: 6.6 lbs.
Location: Ships from CT or CA